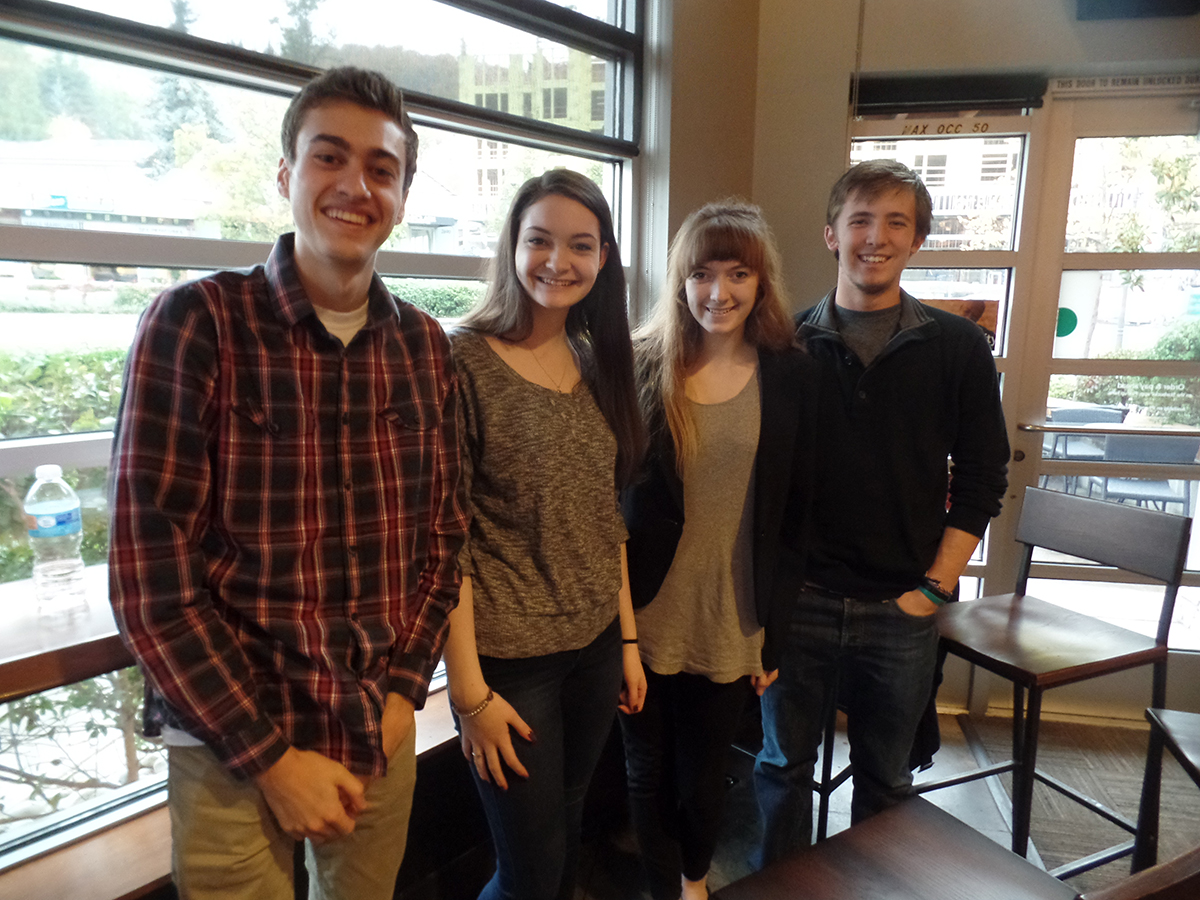 A new club at Mercer Island High School is offering a safe haven for students who want to steer clear of marijuana, alcohol and other substances, and is in turn inspiring others to make that choice too.
Mercer Island's S.A.F.E. Club (for Super Awesome Fun Events) was initiated by senior Sarah Stewart, who transferred from a high school in northern Michigan where problems with substance abuse among her peers were rampant. She was joined in forming the club by her younger sister, sophomore Hannah Stewart.  S.A.F.E Club members appearing in the photo above are Brian Oppenheim, Hannah Stewart, Sarah Stewart and Ben Berejka.
"Basically I watched my roommates and friends there struggle with substance abuse and addiction. One of my main goals in starting S.A.F.E. Club was to create a community not only for myself, but also for other people, that was less toxic than the situation I had in Michigan," she said.
While Mercer Island may be perceived by many who do not live there as an enclave for the affluent, the reality is that the island city along I-90 in south Lake Washington has a diverse population among its 23,000 residents that crosses all levels of income.  Islanders face the same problems that hit most other communities, including substance abuse by youth.
"It's not so much the wealth of some of the families here," notes club member Ben Berejka. "The problem is how isolated we are. We literally live on a rock. So if you don't have a driver's license you're kind of stuck here, and so you sometimes fall into this party cycle of where there is nothing to do so you'll just go to the party. S.A.F.E. Club is great because we have these upper classmen who can drive and we can go rock climbing or something like that."
The Stewart sisters joined with other students at Mercer Island to introduce S.A.F.E. Club first at an eighth grade club fair to reach incoming freshmen.  Word spread quickly after club members put up posters and spoke with classmates. They found a recruitment niche among some students who were already seeking ways to combat the ever-present pressure to try illicit substances. The club meets weekly, is now about 40 members, and represents all four grades at the school.
"We have jocks, the total nerdy people and people who don't talk with each other anywhere else but at S.A.F.E. Club," Sarah says. The club meets formally each Wednesday after school, but the students also get together for activities like paint ball, bowling and social functions that they can enjoy in a friendly, substance-free environment. Their meetings are devoted to making posters, applying for outreach grants and even producing public service announcements such as one they did in association with Communities that Care, an affiliated organization that includes parents and other community members working on Mercer Island's substance abuse issues. 
 "We had the idea to start a club for sober students who want to remain sober and build a kind of community for those where they don't feel peer pressure, where they don't feel like the odds are against them for staying sober," said Ben, also a senior and a member of the Mercer Island High School lacrosse team.
While they do what they do while sober, club members say they are not judgmental of classmates who do use drugs and alcohol.
"We don't claim to try to distinguish," said club member Brian Oppenheim. "Part of the reason we are so popular and we have grown so quickly is that S.A.F.E. Club offers a legitimate way out. It offers a way for students to participate who don't want to be involved with anything illegal, and in a way that's genuine."
"We're not saying that if you drink you're not as good as us, nor are we belittling people.  It's just not what we're going to do. We're going to have fun without it," adds Sarah.
 "Rather than being bored out of your mind on a Friday night, you can get together with other members of S.A.F.E. Club and say, let's do something awesome," said Brian.
Conversely, the four students say S.A.F.E. Club members do not feel at odds with other students who choose to drink and use marijuana.
"Even if they don't want to be part of the prevention work that we're doing, they still think it's really cool and really awesome," said Sarah. "I've only ever heard positive reactions."
"A lot of my best friends use substances and I am fine with that but for me, I don't want to use substances," said Ben. "At this point it's easy. The hardest was earlier on, because that's when you feel the most pressure.
"Once I kind of asserted where I stood, it wasn't very hard for me. If they're your best friends, they're going to respect your decision. If they say are you sure you don't want to try something all I have to say is, no I'm fine."
Based on their experiences with S.A.F.E. Club, each of the students we interviewed intends to make the practice of sobriety foundational to their future. Sarah wants to study the neuroscience of addiction in college and maybe start a club similar to S.A.F.E. where she goes to school. Her sister Hannah has her eyes on a career in public policy or politics where she feels she can make an impact. She recently made a well-received presentation to the Washington Healthy Youth Coalition at its meeting in Olympia on S.A.F.E. Club activities. Ben has been accepted into Kenyon College in Ohio and is thinking about a career as a biologist. Brian has his heart set on Brown University.
The students do not flaunt their sobriety, but without harmful substances in their lives all feel they can focus on the priorities that really matter to them while inspiring others to take the S.A.F.E. route as well.
Brian Dirks is the Communications Director for the Office of the Lieutenant Governor, and a member of the Washington Healthy Youth Coalition.